Posted by
Nov 27, 2013
in
Animals, Cup Cakes, Famous Brands
|
Comments Off

on Thanksgiving Nutter Butter Turkey Cupcakes [Recipe]
on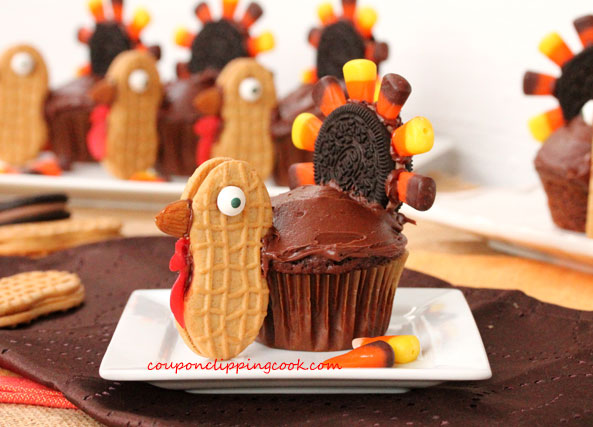 This cupcake is more about what you can do creatively then the recipe.
Once you see the picture everything else should fall in place, but for those who like a step by step I have still included the link to the recipe below.
At first glance the only thing that was questionable was how in the heck did they make the red thing that hangs down from the turkey's neck.  I believe that is called a "Wattle".  If you remember Allie McBeal then you will indeed remember he Wattle.  Anyhow, this is made by any super meticulous person who wants to take a fruit roll up and cut and stick a wattle in the side of a Their Nutter butter bodied Turkey.
Good Luck with that.
For me, my wattle-less cupcakes look just perfect and ready for tomorrow's Pre-Thanksgiving Day festivities.  Right now my real turkey is ready to go in the oven and I'm ready to go in the tub. After fighting an old lady for the last bag of marshmallows, hurdling a shopping cart like OJ Simpson at an airport and dragging groceries in like I'm competing in the Kettle Bell lift of a strongman competition, I'm ready for bed….and the guests haven't arrived yet.
I hope you are having just as much fun.  Happy Thanksgiving.
Click For Recipe!
¸.•´¯) *Link To Detailed Recipe —oOOo—-'(__)'—-oOOo—Is Right Under Your Nose*¸.•´¯)
Posted by
Nov 16, 2012
in
Cup Cakes, Famous Brands
|
Comments Off

on Hershey Kiss Acorn Topped Spice Pumpkin Cupcakes
on

These are Thanksgiving cupcakes, there is no doubt about it.  I tried to place them in multiple categories and you really can't.  Fall cupcakes?? Maybe.
The design of these cupcake are just divine because the acorns are brilliant.  If you look closely you can see that they are made from Hershey's kisses and they have Nutter Butter Mini's as tops.  When you twist the minis apart, there is still just enough peanut butter there (resist the need to lick) and use that peanut butter to stick to the Hershey Kisses.  Then use a chocolate chip for the little acorn stem.
The hardest part of the whole damn recipe was the stem!  The recipe will tell that the heat from your hand is enough to melt the acorn stem to the top of the "Nutter Butter" mini.  I must be cold blooded because it didn't melt.  What I ended up doing  using a warm cup of coffee and pressing the chip up to the cup.  Then I stuck it right to the top.  Worked like a charm.  Let's see how well you do.  Hit the Button and BAKE!
Click For Recipe!
¸.•´¯) *Link To Detailed Recipe —oOOo—-'(__)'—-oOOo—Is Right Under Your Nose*¸.•´¯)
Posted by
Aug 17, 2012
in
Cup Cakes
|
Comments Off

on Peanut Butter And Jelly Cupcakes [Recipe]
on

When you think about a peanut butter and Jelly sandwich, you are instantly thrust back to the school yard and the taste of the best food combination on the planet; or at least so you thought so at the time.  Wash that sandwich down with some chocolate milk and you were ready to take on the biggest slide in the park.
This PB&J delight is topped with a Nutter Butter cookie and infused with strawberry jam throughout.  The good part is, you are not a kid anymore and you can eat these before dinner.
Warning – baking too long can cause these to be dry.  Monitor your bake time closely.
Click For Recipe!
¸.•´¯) *Link To Detailed Recipe —oOOo—-'(__)'—-oOOo—Is Right Under Your Nose*¸.•´¯)