Posted by
Oct 4, 2013
in
Alcohol Cupcakes
|
Comments Off

on Flaming Strawberry, Chocolate Cupcakes – Recipe
on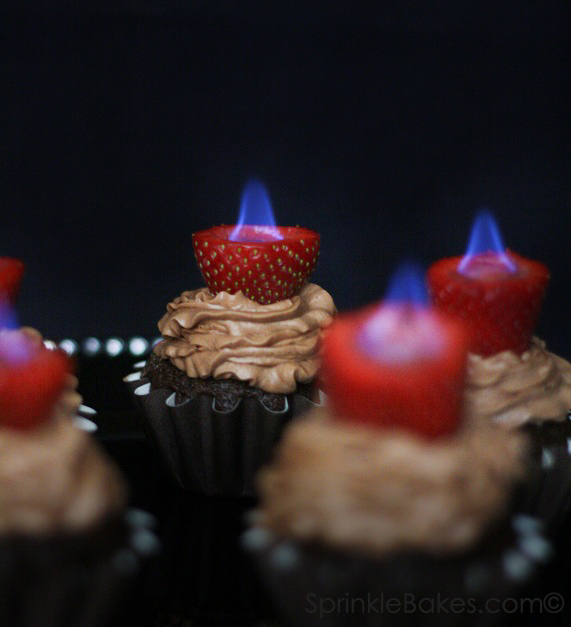 After the success of my last flaming cupcakes (also from Sprinke bakes ) I had to try these.
FIRST THINGS FIRST
The cupcakes are the easy part.  Although there is a recipe at Sprinkle Bakes, just about any chocolate cupcake recipe that you have should do the trick.  I wouldn't waste too much time here at all.  The real fun is the flaming strawberries.  However, I did use their recipe for the frosting. It's a butter, sugar cocoa powder mix (the detailed recipe is below) that we have almost all seen before but for some reason this frosting turned out better then I've made in the past.
Now for the fun part.  I suggest right off the bat to use Bacardi 151  The recipe says anything 80 proof or higher but I tried a few and the Bacardi by far was the easiest to light.
NOW FUN PART
You have to get the biggest strawberries you can find.  I always see these huge overpriced Organic strawberries at ShopRite . The ones' that I always say are for the rich families.  Those.  Use Those.
You actually have to hollow out the strawberry.  I happen to have this set of small condiment spoons, which I never, ever use for anything, that were absolutely prefect for this.  Thank God I didn't re-gift them.  Once you get a nice looking hollow cherry, stick it in the frosting and make sure it's level and secure.  Sit it there and bang on the table a few times to make sure it doesn't move. Any strawberries that tear, eat them and start fro scratch.
Once you have your little Strawberry cups you can now pour in the bicardi and light it.  Viola.  It looks so good that you will impress yourself.
Follow the link below to the detailed Recipe!
Click the Recipe button and BAKE!!

Click For Recipe!
¸.•´¯) *Link To Detailed Recipe —oOOo—-'(__)'—-oOOo—Is Right Under Your Nose*¸.•´¯)
Posted by
Apr 20, 2013
in
Cup Cakes
|
Comments Off

on Chocolate Covered Strawberry Cupcakes with Strawberry Buttercream Frosting
on

After a tough and very emotional week, being so close to Boston there were tons of questions and conversations that had to be had with the kids.  Now that all of that is hopefully over, it was time for a feel good recipe.  Looking in the fridge and seeing that my dear husband brought more strawberries then anyone could possibly eat in a week I decided that it was my duty as a frugal wife to put them to good use, and what goes better with strawberries….then Chocolate.
To go for the pretty appearance I though a pink buttercream frosting would be nice.  For the cupcakes themselves, any chocolate cupcake recipe should be fine.  Dare I say if short on time pick up a simple box mix.  Shhh…..
After you make he frosting, top with a cherry and drizzle with chocolate.   Here is the Recipe:
Click For Recipe!
For the Butter cream Frosting
INGREDIENTS 3 sticks unsalted butter, softened pinch of fine grain sea salt 1 tablespoon vanilla extract 2 pounds confectioners' sugar, sifted 6 ounces strawberries, pureed 4-6 tablespoons heavy cream
How to make strawberry Puree:
Wash, dry, and stem berries.
Place in food processor or blender.
Process until liquid with pulp.
If desired or needed, sweeten with sugar or honey.
Use as a topping or in recipes calling for puree.
Note: 1 pint berries will yield about 1 1/2 cups puree.
Directions to make the Frosting:
1. In the bowl of a stand mixer, fitted with the paddle attachment, or with a hand mixer in a large bowl, cream butter on medium speed until fluffy. Turn your mixer down to low speed and slowly add in the confectioner's sugar, and continue mixing until well blended.
2. Add salt, vanilla, 3 tablespoons of heavy cream and strawberry puree. Blend on low speed until moistened. Add an additional 1 to 3 tablespoons of heavy cream until you reach the desired consistency. Beat at high speed until frosting is smooth and fluffy
3. Pipe frosting onto cooled cupcakes and finish with a chocolate covered strawberry.
Posted by
Aug 29, 2012
in
Cup Cakes
|
Comments Off

on Strawberry Lemonade Infused Cupcakes [Recipe]
on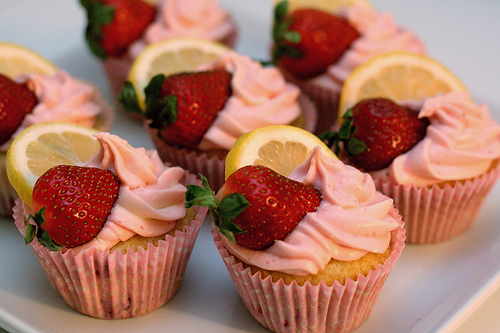 As I try to fight the end of summer, I am compelled to continue to bake things summery. Usually I'm all for fall and fall flavors and I will eventually get there, but why rush it…right? The best part about these lemonade cupcakes is that they are actually infused with Lemonade. The cupcakes are pierced and a syrup is poured inside and then they are frosted. Pure Lemony Perfection!
Click For Recipe!
¸.•´¯) *Link To Detailed Recipe —oOOo—-'(__)'—-oOOo—Is Right Under Your Nose*¸.•´¯)