Posted by
Jan 30, 2015
in
Alternate Food Cupcakes, Sports Cupcakes, Uncategorized
|
Comments Off

on Superbowl Party Nacho Cupcakes – Recipe
on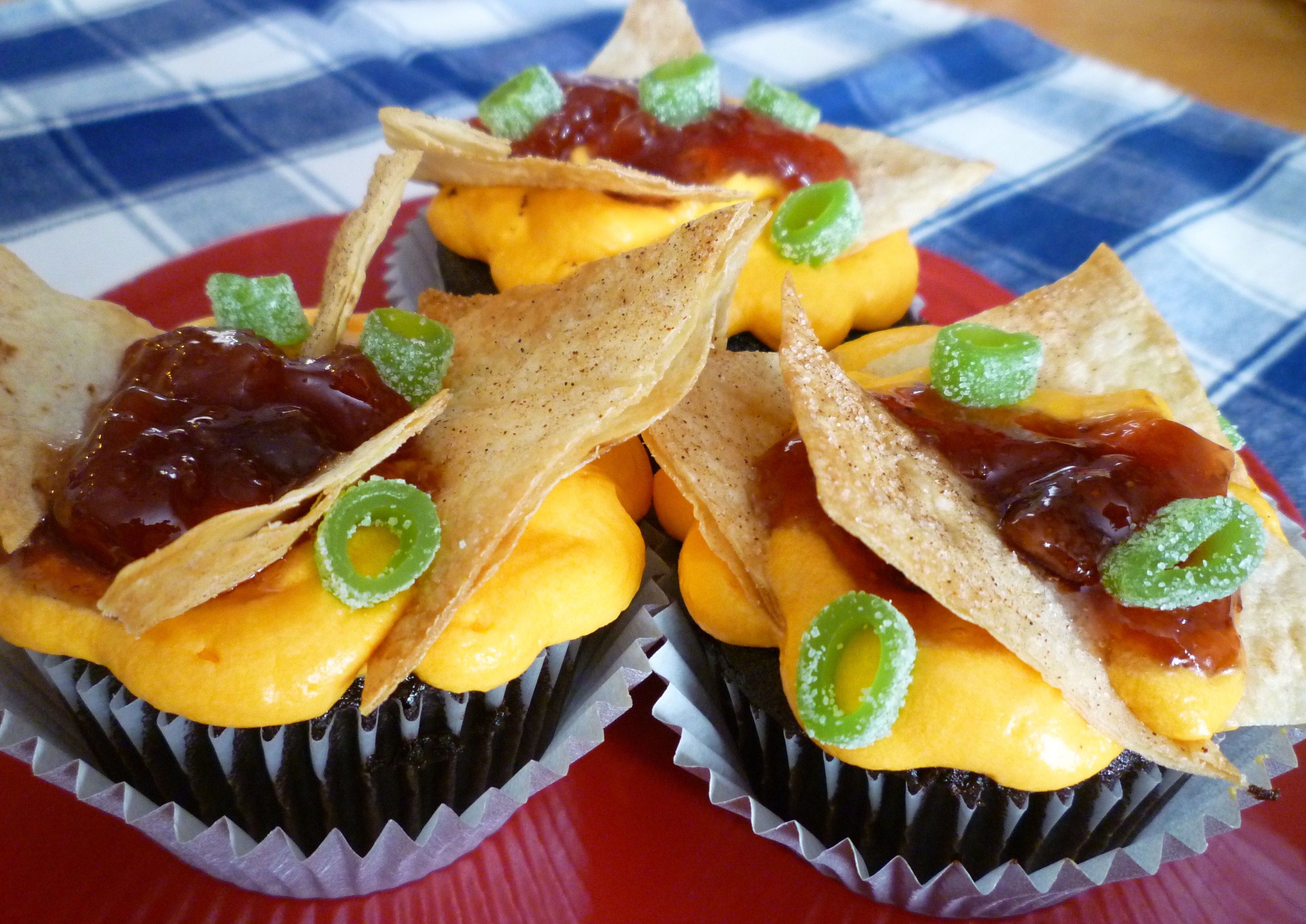 Can you believe that Superbowl weekend is here already?  That means a few things:
Winter is almost over.  Yay!
Football is over.  Yay!
Time for me to flex my cupcake muscles.
Because the Superbowl festivities at my house start early.  Usually around 2:00 PM I typically baked three sets of cupcakes for the guys.  They are all mainly sport themed and these nacho cupcakes definitely make the cut.  At first glance they actually look like nachos – people began to wonder if I'm crazy or perhaps the sweet chocolate with salsa might actually be tasty.
(more…)
Posted by
Oct 11, 2012
in
Alcohol Cupcakes, Famous Brands, Holiday Cake Pops, Sports Cupcakes
|
Comments Off

on Guinness Pretzel Cupcakes with Caramel Drizzle [Recipe]
on

There is nothing like a nice Guinness Stout after a hard day of work.  Maybe at a happy hour chugging a cold one with a bowl of pretzels.  Or how about getting home, kicking off your heels and having a nice hot piece of chocolate cake?  Sounds good doesn't it?
What if you could have both?  This is a delightful recipe and if for some reason you don't want to go with the alcohol there is an alcohol free version.
Don't be intimidated at all by the pretzel shards…you can take a bag of big pretzel rods and literally cut them length wise with a knife.  More than half of them will splinter nicely….eat the rest.  These are perfect for game day, Fathers Day or any day!  Hit the Recipe Button and Start baking!!
Click For Recipe!
¸.•´¯) *Link To Detailed Recipe —oOOo—-'(__)'—-oOOo—Is Right Under Your Nose*¸.•´¯)