Posted by
Mar 23, 2013
in
Cup Cakes
|
Comments Off

on Easter Jelly Bean Spring Flower Cupcakes
on

This is more a decorating idea then a cupcake recipe.  As you can see from the picture basically it's using Jelly Beans to decorate the cupcakes in the shape of the flowers.  This is super fast and super easy.  Dare I say – you can even buy the cupcakes from the store if you are really rushed!!
WATCHOUTS:
My only watchout here is that all the Jelly Beans are not the same size.  The best solution here is to use Jelly Belly's.  The other benefit with Jelly Belly's is that they have flavors that you can possibly match up with the frosting.
This is definitely a recipe your ids can help with.  They can do color sorting and flower making….or if they are like mine, they can play on the Ipad and just do cupcake eating.
Click the Recipe Button below for the details and more Photos!!
Click For Recipe!
¸.•´¯) *Link To Detailed Recipe —oOOo—-'(__)'—-oOOo—Is Right Under Your Nose*¸.•´¯)
Posted by
Jan 12, 2013
in
Cup Cakes, Famous Brands, Holiday Cake Pops
|
Comments Off

on Sunflower Oreo Cookie Cupcakes
on

If you haven't ventured into the cupcake decorating arena, this is the perfect recipe to do so.  It looks super hard, and is actually super easy.  The tips do all the work.
Let's talk about the tips and the decorating – the rest is just a cupcake with half an Oreo on top.
The recipe calls for two specific tips:
#98 ruffle decorating tip
#30 closed star decorating tip
Don't feel compelled to use these tips.  If you have a beginners kit and do not feel like buying more crap, then experiment with what you have.  The picture is just a guideline.  I have the Wilton 50 piece beginners kit and any standard petal tip and leaf tip will work.
The key here is to layer the flower petals so that each layers petals, go in between the petals that are below.
Lastly, either put these in the fridge right as you complete them or serve them up at once.  The frosting will droop if the cupcakes sit out too long.
Click the Recipe button below for more photos and step by step decorating instructions.  Good Luck!
Click For Recipe!
¸.•´¯) *Link To Detailed Recipe —oOOo—-'(__)'—-oOOo—Is Right Under Your Nose*¸.•´¯)
Posted by
May 13, 2012
in
Cake Pop, Hat Cake Pop, Holiday Cake Pops, Mother's Day Cake Pops, Slider
|
Comments Off

on Mother's Day Church Hat – Cake Pop
on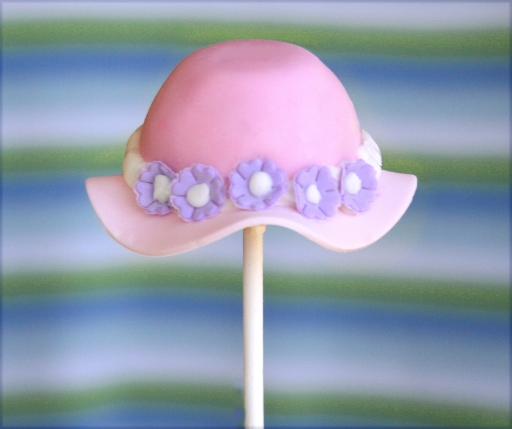 These shouldn't be just saved for Mother's Day, they will also be a nice treat for Easter or anything in Springtime. They are fun, fluffy and tasty. I must caution you that it's takes a lot of patience to get these just right.  These were my first introduction into cake pops and it's a different level of time and detail then a cupcake, but the pay-off is worth it.
Let me know what you think.  The link to the full recipe is below.
Click For Recipe!
¸.•´¯) *Link To Detailed Recipe —oOOo—-'(__)'—-oOOo—Is Right Under Your Nose*¸.•´¯)