Posted by
Mar 16, 2013
in
Cup Cakes
|
Comments Off

on Irish Cream "Ice Cream" Mocha Cupcakes!
on

In keeping with the theme of the blog, I always try my best to find unique recipes that look as interesting as they taste.  Simplicity is also always the key.  Although I occasionally have some difficult to make recipes, I try to post recipes that can be done by a working mother of two.
With St. Patty's Day les then 24 hours a way I figured something green with alcohol is in order.  The unique part about this recipe is the Vanilla ice cream mixed with Irish Cream Creamers.  You actually have to mix the creamers with vanilla ice cream and sprinkle in bits of toffee.  If that sounds good, it is.  That in itself is just a great tasting treat.  Haagen Dazs also makes a great Baily's ice cream. The issue with using the Haagen Dazs is the color is brown which doesn't look good on the cupcake, but tastes amazing.  You have to balance out what matters more to you.
Remember to keep everything in the muffin tin until ready to be served. I recommend freezing them overnight.  The more frozen the ice cream is, the more pronounced the ridges in the ice cream will show when  you are ready to serve them.
Use your favorite decorating tip for the whipped cream frosting.  It goes on just like any other frosting.  I recommend applying it just before serving these up.  Click the RECIPE button to go to the detailed recipe.  Happy Baking!
Click For Recipe!
¸.•´¯) *Link To Detailed Recipe —oOOo—-'(__)'—-oOOo—Is Right Under Your Nose*¸.•´¯)
Posted by
Mar 12, 2013
in
Alcohol Cupcakes, Cup Cakes
|
Comments Off

on Stout Soaked Caramel Corn Cocoa Cupcakes with Stout Buttercream Frosting [Recipe]
on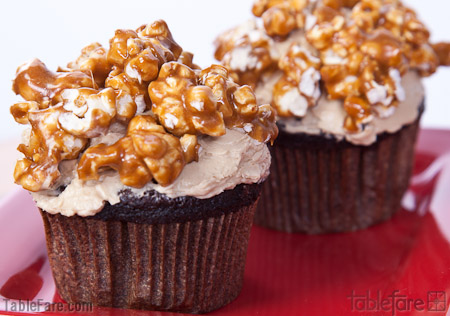 If you want to blow the doors off of St. Patrick's Day then this is the right recipe, however this is not for beginners.  This is one of those recipes that you have to plan for because it's time consuming and actually hard work.  There are four phases:
The cupcakes
The Stout Reduction
The Stout Buttercream
The Stout Caramel Corn
I suggest breaking the recipe up because the reduction alone can take as much as 45 minutes.   That's 45 minutes of monitoring everything closely.  The good part is that after you make the reduction, you can store that in the fridge for 2 or 3 days.
When it's said and done the finished product will look great.  I'm all four anything that I don't have to pull out the decorating tips for.  Just stick the popcorn to the top and you have caramel, salty, crunchy with a hint of a stout after taste.  Oddly Delish!!  Hit the Recipe button and BAKE!!
Click For Recipe!
¸.•´¯) *Link To Detailed Recipe —oOOo—-'(__)'—-oOOo—Is Right Under Your Nose*¸.•´¯)