Posted by
Mar 12, 2013
in
Alcohol Cupcakes, Cup Cakes
|
Comments Off

on Stout Soaked Caramel Corn Cocoa Cupcakes with Stout Buttercream Frosting [Recipe]
on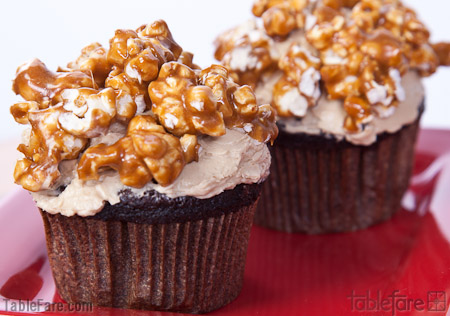 If you want to blow the doors off of St. Patrick's Day then this is the right recipe, however this is not for beginners.  This is one of those recipes that you have to plan for because it's time consuming and actually hard work.  There are four phases:
The cupcakes
The Stout Reduction
The Stout Buttercream
The Stout Caramel Corn
I suggest breaking the recipe up because the reduction alone can take as much as 45 minutes.   That's 45 minutes of monitoring everything closely.  The good part is that after you make the reduction, you can store that in the fridge for 2 or 3 days.
When it's said and done the finished product will look great.  I'm all four anything that I don't have to pull out the decorating tips for.  Just stick the popcorn to the top and you have caramel, salty, crunchy with a hint of a stout after taste.  Oddly Delish!!  Hit the Recipe button and BAKE!!
Click For Recipe!
¸.•´¯) *Link To Detailed Recipe —oOOo—-'(__)'—-oOOo—Is Right Under Your Nose*¸.•´¯)