Posted by
Feb 3, 2013
in
Cup Cakes, Famous Brands
|
Comments Off

on Oreo Cookie and Cream CheeseCake Cupcakes [Recipe]
on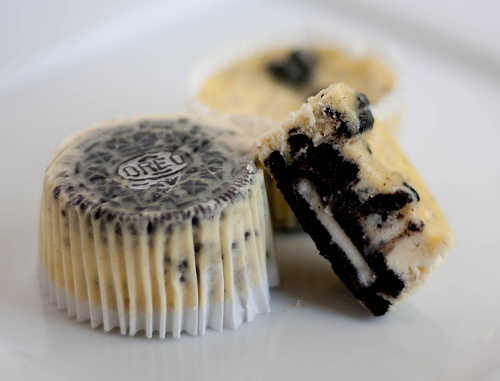 The most spectacular thing about these cupcakes, is how easy they are to make.  When I first looked at the pictures, I thought I would need to a degree in bakeology to pull this off, but it's soooo not true.  These are actually easy-peasy.
Just a couple of watch outs:
If you use liners that are too thick you won't see the Oreo cookie imprint on the bottom.  They will still taste great but showing off the cookie is one of the great parts of this recipe.
Be careful with the oven temperature and cooking time.  Watch it closely.
The other thing that is not really a watch out, but some advice.  Make sure you chill these before you serve them.  Trust me, it will be worth the wait.
Click the Recipe Button and get started.  If you want more photos for inspiration, check this site – Grace's Sweet Life
Click For Recipe!
Makes 30
42 Oreo, cream-filled chocolate sandwich cookies, 30 left whole and 12 coarsely chopped
908 grams (2 pounds or about 3 2/3 packages) cream cheese, room temperature
225 grams (1 cup) sugar
1 teaspoon pure vanilla extract
4 large eggs, room temperature, lightly beaten
230 g (1 cup or 8 ounces) sour cream
Pinch of salt
Preheat oven to 275° F.  Line standard muffin tins with paper liners.  Place 1 whole Oreo cookie in the bottom of each lined muffin cup.
In the bowl of a stand mixer, fitted with the paddle attachment, beat cream cheese on medium-high speed until smooth, scraping down sides of the bowl as needed.  Gradually add the sugar, and beat until combined.  Beat in the vanilla.
Drizzle in eggs, a little at a time, beating to combine and scraping down sides of bowl as needed. Add in sour cream and salt, beat to combine.  Using a large spatula, fold in the chopped Oreo cookies.
Divide batter evenly among the cookie-filled muffin cups, fill each cup almost to the top.  Bake, rotating muffin tins halfway through, until the filling is set, about 22 to 28 minutes.  Transfer the muffins tins to a wire rack to cool completely. Refrigerate (in the muffin tins) at least 4 hours (or overnight). Remove from tins just before serving.
Original Recipe From – Martha Stewart's Cupcakes