Posted by
Mar 8, 2013
in
Not a Cupcake
|
Comments Off

on Oreo Stuffed Chocolate Chip Cookie [Recipe]
on

I realize that this isn't a cupcake, but this isn't really a cookie either.  This thing deserves its own dessert name.
REWIND: My daughter was having a bake sale, an event where I am hands down usually the star of the show.  My little table is always swarmed; my little tin box of money is usually overflowing with bills.  I can't keep the cupcake platter stocked.  I'm in my element!  I' m in my world baby!!  UNTIL TODAY…….
What's going on over there?  There is a table across the room that is getting all the attention.  From my seat, I can see that they are not even selling cupcakes.  Who's trying to outdo me?
Irritated, I get up and March across the room to see what's going on.  Low and behold, it appears to be a thick-ass chocolate chip cookie.  So what!  What's the big deal here?  Mrs. Lucy who is manning the table, tells me to try one.  Frustrated by all the hub-bub over what appears to be just a chocolate chip cookie, I grab one and shove it in my mouth.
OH MY!  OH MY WORD.  There is a freakin' OREO inside this cookie!!!  I was going to divorce my husband and leave my kids and runaway with the cookie platter.  Not giving Mrs. Lucy the satisfaction of knowing she had just given me my first "Big O"reo aka a Mouth-gasim, I had to find this recipe and create it for myself.  Of course as soon as I tracked down the recipe I had to share it with my fans.
Here a picture is worth a thousand words – could it really be that easy?  Yes.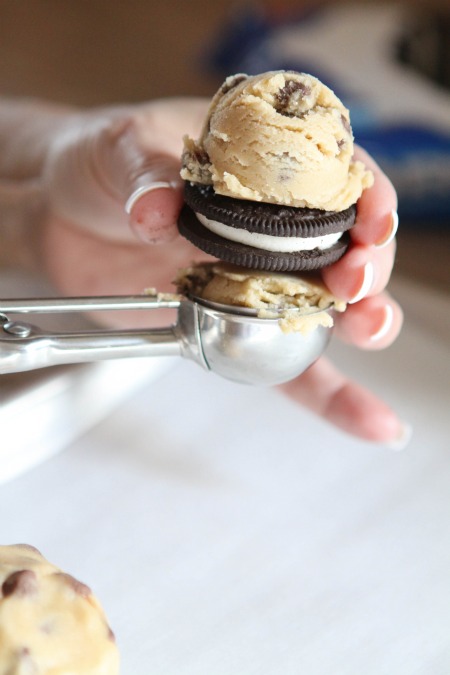 That's really the key to the cookie but for all the delicious details, hit the Recipe button below and you will get a play by play complete with pictures.  You can thank me later.
Click For Recipe!
¸.•´¯) *Link To Detailed Recipe —oOOo—-'(__)'—-oOOo—Is Right Under Your Nose*¸.•´¯)