Posted by
Jul 21, 2013
in
Cup Cakes
|
Comments Off

on Baked Alaska Cupcake Flambe – Recipe
on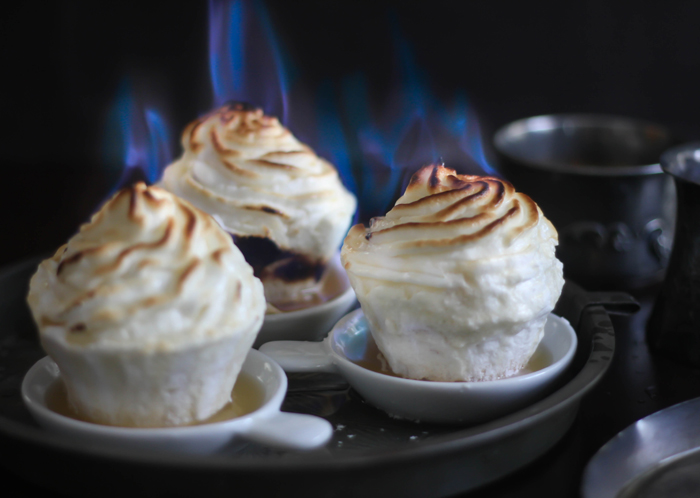 This is one the best recipe's I've found on the internet…hands down.  Who would have "Thunk it".  Not only will you steal the show with these beauties they also taste damn good.
What you don't see in the picture and if you are a novice like myself who didn't realize that there is actually ice cream inside these cupcakes!  They are basic vanilla cupcakes and the centers are cut out and filled with ice cream.  In my case, pure chocolate ice cream because I wanted that chocolate – vanilla contrast.  However, you can choose any flavor you want.
The ice cream is then covered by the Flambe (the thing that actually burns on top of the cupcake).  The Flambe is basically a frosting (egg whites, sugar and cream) mixed with Brandy.  As Heather from sprinklebakes says – heating up the brandy beforehand allows for a longer, slower burn.
I say again…don't be afraid of this Recipe.  It's not easy but it's not difficult.  I would rate it right down the middle.  I really didn't run into many issues and the response I had was ridiculous.  Bring these out and watch the response.  You will blow them away.
Last bit of advice, I used the set up exactly like in the picture.  I had white microwavable saucers that looked the same and also a metal pan.  I even cleared the table cloth and served them on my glass table and of course had the fire extinguisher nearby.  My husband always says "Don't burn the house down", I wanted to make sure I followed that advice!  J  I also lit a practice one first because I had no idea what was going to happen.
Click the Recipe button and BAKE!!

Click For Recipe!
¸.•´¯) *Link To Detailed Recipe —oOOo—-'(__)'—-oOOo—Is Right Under Your Nose*¸.•´¯)
Posted by
Dec 29, 2012
in
Alternate Food Cupcakes, Holiday Cup Cakes
|
Comments Off

on New Year's Champagne Glass White Cupcakes [Recipe]
on

These are perfect for the Champagne toast during New Year's or any other special occasions where Champagne is most likely to be served.
The recipe itself is quite simple.  It's a standard white cupcake made with white cake mix.  If you want to bake them from scratch, as most hard core bakers will, then you can follow this recipe instead of the boxed.
The candy beads are candies called sixlets.  They can be found here on Amazon but also where ever you buy your normal baking supplies from.  Hobby Lobby has them for about $6.00 and some Wal-Mart's carry them as well.
For the champagne glasses the shallower the better.  It will take some looking to search them out, but you actually want to use disposable margarita glasses.  I found mine at the dollar store.
When baking the cupcakes make them more like muffins.  Fill the pan up so that they crown over so the tops puff out enough to span the diameter of the margarita glass.  Frost them and then add your sixlets.  Adding the sixlets is agonizing but after the first one is done you will be so happy with the result, the rest will be fun.
Hit the Recipe Button below for the original Full Recipe!  Happy New Year's

Click For Recipe!
¸.•´¯) *Link To Detailed Recipe —oOOo—-'(__)'—-oOOo—Is Right Under Your Nose*¸.•´¯)
Posted by
May 27, 2012
in
Cup Cakes, Holiday Cup Cakes, Mother's Day Cup Cakes
|
Comments Off

on Vanity Table Cupcakes [Recipe]
on

Click For Recipe!
¸.•´¯) *Link To Detailed Recipe —oOOo—-'(__)'—-oOOo—Is Right Under Your Nose*¸.•´¯)
Marshmallow bottles with chocolate stick cookie caps, wheat stick Q-tips and make up pad marshmallows.