Posted by
Jan 7, 2014
in
Cup Cakes
|
2 comments
on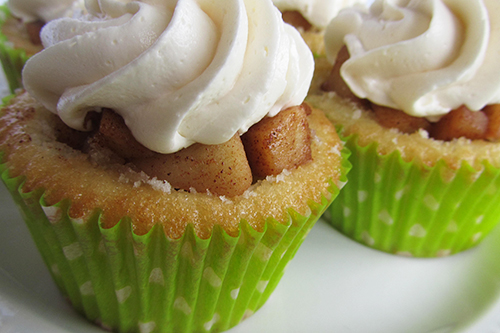 There are some people who are partial to pie rather than cake.  These people are deprived of that pie sensation as there really isn't anything like a cup-pie, only cupcakes….until now.  Not really, but sort of.  In my search to find and make the ultimate Super Bowl cupcakes I stumble on these Applely, cinnamonny, sugary beauties and I just had to roll up my sleeves and go to town.
These smelled so delicious, two of them met their demise before getting frosted.  The frosting is Vanilla butter cream, however, please feel free to top with the richest, most decadent vanilla ice cream your heart so desires.  Hot apples and cold ice cream  – bring on the snow and the fireplace.  Life is Good!!
Click the Recipe button below and Bake!!
Click For Recipe!
¸.•´¯) *Link To Detailed Recipe —oOOo—-'(__)'—-oOOo—Is Right Under Your Nose*¸.•´¯)